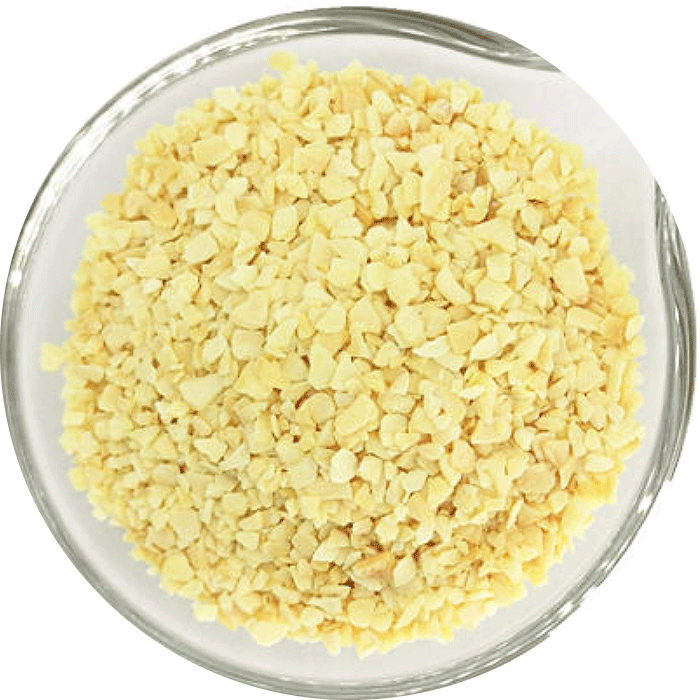 Dehydrated Garlic
(4.3 Rating & 7 Reviews)
Dehydrated garlic is one of the essential herbs in the array of spice mixes with a significant presence in the kitchen. It is a fine powder derived from the dried bulb of garlic that has a pungent and pleasant flavor as a characteristic of a compound called allicin.
It has medicinal properties, is highly nutritious, is rich in proteins, carbohydrates, and minerals providing many health benefits.
Our dehydration process is unique with leading-edge technology keeping the nutrition profile and quality intact.
Garlic has a history throughout to treat cardiovascular complications. It reduces blood pressure, improves cholesterol levels, bone health, and has many other health benefits.
Dehydrated garlic is a traditional spice that is used for various cooking and remedial purpose. It is used in baked foods like garlic bread, croutons, rolls, rotis, pizzas, etc.
We are the leading manufacturers, exporters, bulk suppliers of dehydrated garlic. All the raw materials we use to manufacture are NON-GMO in origin. Our dehydrated products are benchmarked by BRC Global Standards, ISO 22000, and FSSAI for food safety, and product quality.
We customize the products as per the needs of the customers.
Contact us to order now!
Email us at dehydratedfood@azistaindustries.com or fill in the below lead form for orders, inquiries, or customization of the product.