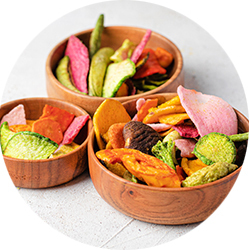 Dehydrated Vegetables
Azista Industries is known for developing innovative and technologically advanced products that cater to the daily needs of our consumer's health and nutrition.
We are the most reputable manufacturer, exporter, and bulk supplier of Dehydrated Vegetables. In keeping with our commitment to health, we use a reliable and world-class manufacturing process that provides our customers with a superior nutrition profile and quality. Our Dehydrated Vegetables are convenient to use as a base to cook a variety of dishes in less time, which allows for a healthier and easy lifestyle.
Our food products are precisely compliant with the benchmarked standards of quality, safety, and nutritional value.
We customize the products as per our customer's love to eat them.
What are you waiting for? Fill out the form below to taste the dehydrated version of vegetables with an intact nutrition profile.
View Products