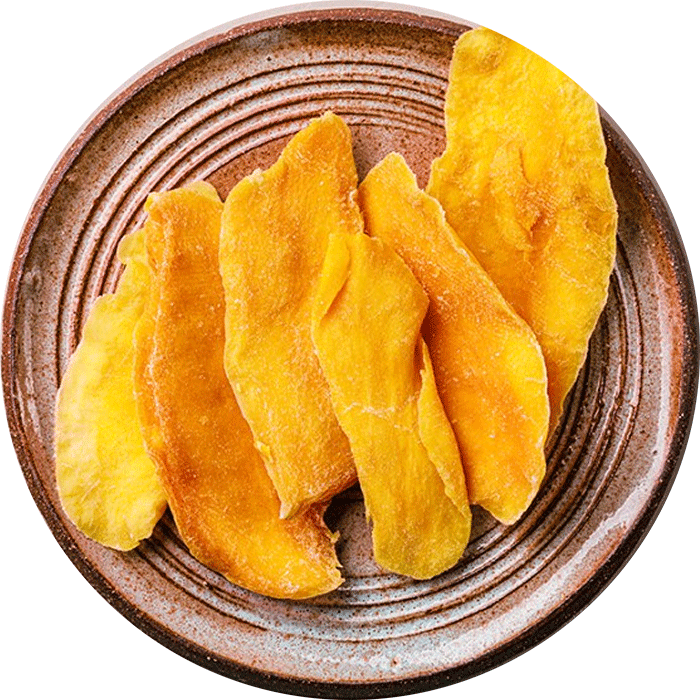 Dehydrated Totapuri Mango
(4.4 Rating & 5 Reviews)
Totapari Mango is a variety of mango and is called "Parrot face" in English. The mango skin has slight bitterness unlike the usual mangoes skin and is eaten along with the skin. The sweetness, color, and taste are retained despite dehydration.
It is a rich source of antioxidant enzymes and contains an essential nutrient profile.
Our unique dehydration process with cutting-edge technology keeps the nutrition profile intact with the best quality.
Use the dehydrated Totapari Mango to add to baked foods, yogurt, cereals, trail mix, or mix it with nuts. It can be eaten as a snack as its texture is crunchy and chewy in the form of slices. It boosts up your immunity, increases resistance power, nourishes your body, and provides many more health benefits.
Azista industries are one of the leading manufacturers, exporters, and bulk sellers of Dehydrated Totapari Mango. All the raw materials used in the manufacturing process are non-GMO by origin. Our dehydrated products are benchmarked by BRC Global Standards, ISO 22000, and FSSAI for food safety and quality.
We customize the product to meet the customer's requirement and cater the product with promising quality.
Contact us to order now!
Email us at dehydratedfood@azistaindustries.com or send your inquiries to order or for customization of the product. You can also order our products through our "Contact Form" on the website.