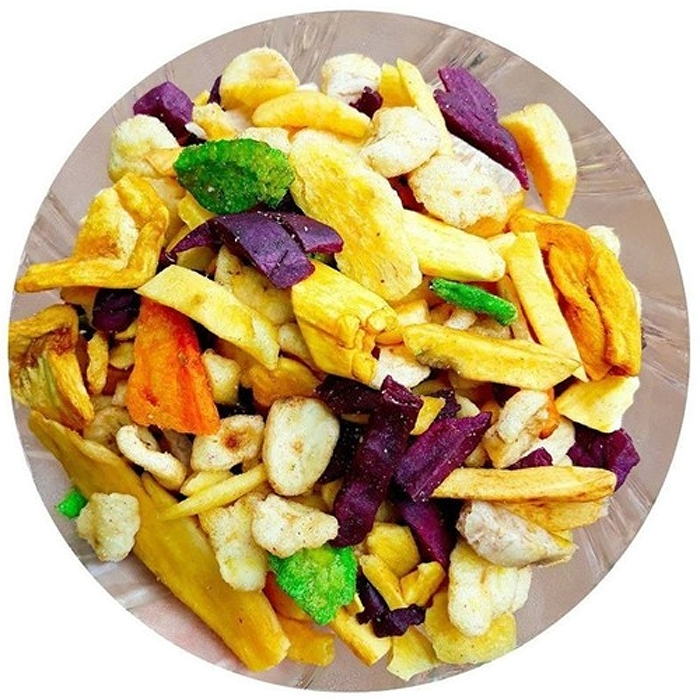 Dehydrated Fruit Snacks
(4.3 Rating & 3 Reviews)
Dehydrated fruit snacks are the sweet combination of your favorite dehydrated fruits Mangoes, Bananas, Papaya, Pineapple, and Apple.
The product is a package of nutrients, antioxidants, vitamins, minerals, fiber, a stomach filling, and a healthy snack between your meals. It is the perfect substitute for junk snacks to bag you good health, flavor, and taste.
Dehydrated fruit snacks are an immunity booster, improve blood circulation, enhance your vision, betters gut health, keeps your heart health, kidneys health, memory, and many more benefits that are not mentioned here.
These mouth-watering snacks can be used in fruit salads, topping for oatmeal, corn flakes, milk, pudding, porridge, eat them like chips. These are the best substitutes for sweet candies and sweet lovers will enjoy the snack.
Azista Industries is listed as the leading manufacturer, bulk supplier, and exporter of dehydrated fruit snacks.
All the raw materials we use to manufacture are NON-GMO in origin. Our dehydrated products are benchmarked by BRC Global Standards, ISO 22000, and FSSAI for food safety, and product quality.
We are well-known for their quality, taste, and flavor. We customize the products as per our customer's requirements.
Contact us to order now!
Email us at dehydratedfood@azistaindustries.com or fill in the below lead form for orders, inquiries, or customization of the product.