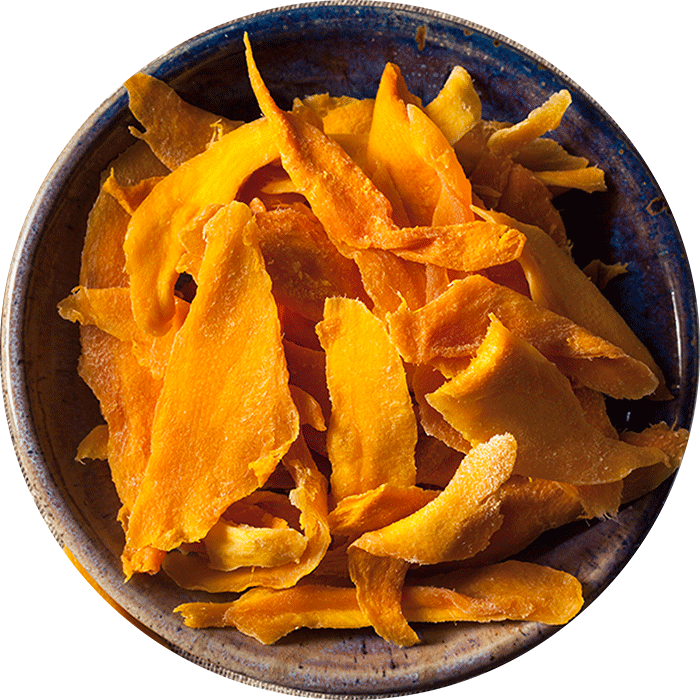 Dehydrated Banginapalli Mango
(4.5 Rating & 3 Reviews)
Banginapalli Mango is known as the summer queen. It is an elegant pale yellow, lightly aromatic with moderate sweetness.
It has a unique flavor, fragrance, taste, and health-promoting qualities.
The fruit is rich in antioxidants, vitamins, and has many other nutrients not mentioned here.
Our unique dehydration process with advanced technology keeps the nutrition profile intact with the best quality.
Consumption of the fruit is a good remedy for inflammation, boosts your immune system, and many others.
Dehydration of mangoes elevates the taste and flavor of the fruit. It can be used as a snack as the texture is crunchy and crispy. It tastes delicious when soaked in water, juices, and yogurt. Dried mangoes are also added to curries, chutneys, compotes, cereals, muesli, and cakes.
Azista industries are one of the leading manufacturers, exporters, and bulk sellers of Dehydrated Banginapalli Mango. All the raw materials used in the manufacturing process are non-GMO by origin. Our dehydrated products are benchmarked by BRC Global Standards, ISO 22000, and FSSAI for food safety and quality.
We customize the product as per our customer's needs and cater it with the best quality.
Contact us to order now!
Email us at dehydratedfood@azistaindustries.com or send your inquiries to order or for customization of the product. You can also order our products through our "Contact Form" on the website.