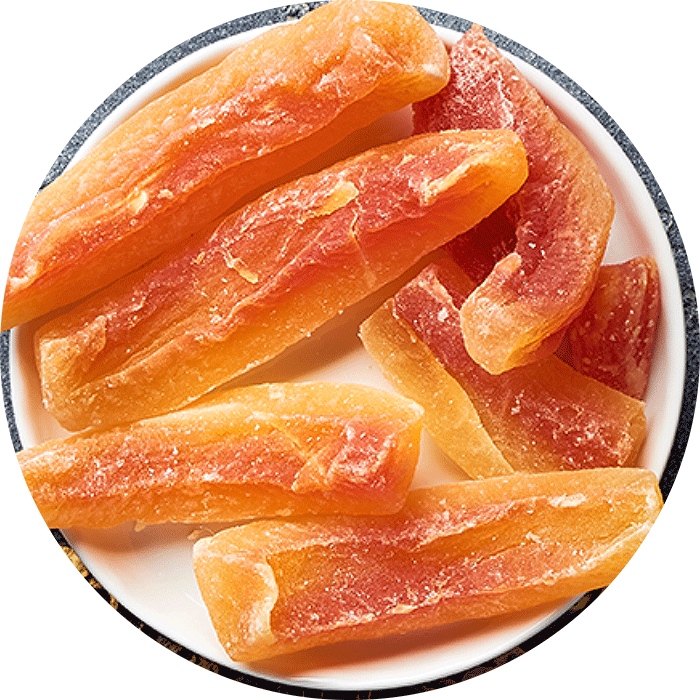 Dehydrated Papaya
(4.4 Rating & 5 Reviews)
Dehydrated papaya is a sweet tropical exotic treat. It is referred to as the fruit of angels. It is a dense nutrient snack that is an energy booster and a healthy snack. It is rich in antioxidants, fiber, and vitamins.
Our unique dehydration process and radical technology keep the quality and nutrition profile of the product intact.
Dehydrated papaya is every time and anytime ready-to-eat snack. It goes well with oatmeal, soups, stews, Biscotti, topping for a salad, cookies, baked foods, Greek yogurt, or stuffing.
It is similar to chewy and candy snacks. It can be added to homemade trail mix, muesli, or in any recipe where you like to have a crunchy topping.
Azista Industries is listed as the leading manufacturer, bulk supplier, and exporter of dehydrated papaya and is known for its quality, taste, and flavor.
All the raw materials we use to manufacture are NON-GMO in origin. Our dehydrated products are benchmarked by BRC Global Standards, ISO 22000, and FSSAI for food safety, and product quality.
Our products are customized according to the needs of our customers and catered with the best quality.
Contact us to order now!
Email us at dehydratedfood@azistaindustries.com or fill in the below lead form for orders, inquiries, or customization of the product.