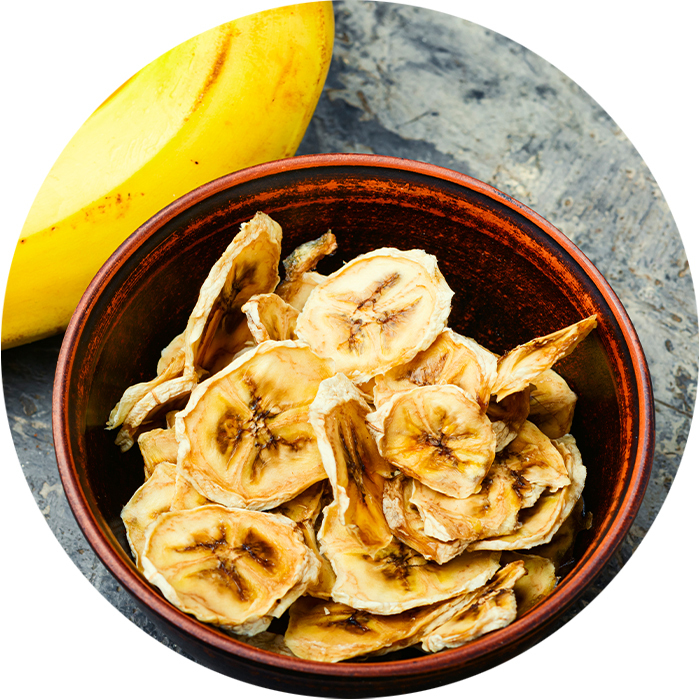 Dehydrated Banana
(4.3 Rating & 8 Reviews)
Dehydrated banana is leathery and dry. They are a perfect healthy snack for any outdoor lovers looking for an instant energy boost on the go.
Dehydrate Bananas are four times rich in fiber, vitamins, and minerals and valued for their nutritional values.
Our dehydration process is unique and the cutting-edge technology we use keeps the nutritional profile and quality of the product intact.
Dehydrated bananas are beneficial to your eyes, lowers your blood pressure, rejuvenate your body with energy.
It is used as pancakes, cut the dehydrated bananas into small pieces and stew them with a little wine and make a thin syrup by adding grated lemon peel and sugar to taste.
Fry the bananas to eat tasty snacks.
Dehydrated banana chips can be used to make homemade banana Lara bars.
Azista Industries is listed as the leading manufacturer, bulk supplier, and exporter of dehydrated bananas.
All the raw materials we use to manufacture are NON-GMO in origin. Our dehydrated products are benchmarked by BRC Global Standards, ISO 22000, and FSSAI for food safety, and product quality.
We customize the product as per our customer's love to eat and cater the product with the best quality.
Contact us to order now! We customize the products as per our customer's requirements.
Contact us to order now!
Email us at dehydratedfood@azistaindustries.com or fill in the below lead form for orders, inquiries, or customization of the product.